Our TIY Tribe is full of inspiring women. They are athletes, parents, students, entrepreneurs, models, CEOs, and much, much more. We are thrilled to have gathered such impressive humans together through our hair ties. The community created through TIY is full of stellar individuals doing amazing things! We would love to highlight and uplift some TIY wearing athletes who have recently caught our eye with their dedication, determination, and influence.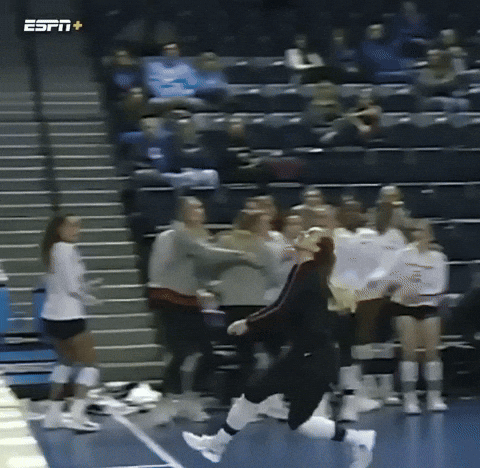 Kate Georgiades
Kate Georgiades is a junior at the University of Houston, as well as the libero for their division one volleyball team. Georgiades has recently gone viral for her amazing play (as seen above) where she saved the ball by diving head first over a table. She then ran back onto the court to deliver a one handed set, again saving the ball, which lead to them winning the point. Georgiades has been an impressive athlete for a while, and was named the American Libero of the Year and All-AAC First Team in 2021. She also ranks fourth all-time in UH history for digs, as well as second nationally in total digs. Her dedication to her craft is truly inspiring to us all, and we love to see her ponytail still perky and intact after her insane save!
Jenna Wenaas
Junior outside hitter for the University of Minnesota has a laundry list of exceptional awards including: All-Big Ten Second Team (2021), NCAA All-Region Team, Austin Regional (2022), Academic All-Big Ten (2021; 2022), AVCA All-North Region (2021), AVCA All-North Region Honorable Mention (2022), Big Ten Distinguished Scholar (2021-22), Big Ten/Big 12 Challenge All-Tournament Team (11/272022), Big Ten Player of the Week (9.20.21), CSC Academic All-District (2021-22, 2022-23), and Preseason All-Big Ten (2022). Her stats are just as impressive, with a total of 664 kills since 2020. In addition to her athletic achievements Wenaas academically excels and is studying Health and Well-Being Sciences. As seen in Brad Rempel's photo above, Jenna sports her pink TIY in her matches, trusting our hair tie to carry her through her games.
 Molly Phillips
Right side hitter, Molly Phillips, has been blazing her path of excellence since she joined the University of Texas volleyball team in 2019. She was awarded the Big 12 Rookie of the Week, as well as the Big 12 Conference Commissioner's Honor Roll in 2019. In 2020 she was awarded Second Team All-Big 12, First Team Academic All-Big 12, and Big 12 Defensive Player of the Week. Finally in 2022 she was awarded AVCA All-Southwest Region, Second Team All-Big 12, and First Team Academic All-Big 12. She is currently in her final fourth season at UT, and has had a stellar season so far. We expect to see her continue to do great things as UT competes for the national championship. Cheer her on Saturday night as UT plays Ohio State at Gregory Gymnasium!
---